BLUE SKY INNOVATION LAUNCH; STANLEY PAUL FOUNDATION HONORS; MICHIGAN AVENUE MAG COVER PARTY; THE DINNER PARTY; NATALIE'S BIG DAY; TICKLED PINK FOR BRIGHT PINK: JONNY'S BLUE & WHITE PARTY; HOPE THROUGH CARING; NINA AND BOB'S FLOWER SHOW; VIDEOS AND SO MUCH MORE!
The Qatar Airways plane had to be de-iced four times before our departure to Doha, the exciting capital city of Qatar, which is located on the coast of the Persian Gulf. I
remember when they announced the opening of this direct route from Chicago to Doha and I was thrilled to be included as one of Qatar Airways Ambassadors when they first introduced this flight. They hosted a
grand gala on April 11 at the Field Museum and everyone who was anyone was in attendance. The program included a performance by Jennifer Hudson and an eloquent welcome speech by Qatar Airways CEO Akbar Al Baker.
I was beyond impressed and dreamed of a trip to this exotic city that is experiencing a growth explosion thanks to its recently
discovered natural gas reserves. My dream came true when we left for Doha on January 26, Boeing 777 business class, which we came to realize is like our first class. With a menu created by Michelin starred Chef Tom Aikens
(who specializes in French cuisine), Chef Ramzi Choueiri (Middle-Eastern fare), legendary Chef Nobu Matsuhisa (Japanese cuisine) and Vineet Bhatia, a Michelin starred Indian chef.
I knew this trip was going to be something very special and, boy, was it ever! The seats fully reclined into a bed, and a massaging one at that! The flight attendants were chic, attentive and anxious to please. The 14 hour trip seemed to fly by with all of
the attention....I have two cute sets of pajamas as well as awesome toiletries courtesy of Salvatore Ferragamo. When we finally touched down, we were greeted by Liz Walsh, PR manager Doha International Airport, and Yasmin Ahmad, PR Qatar Airways. They made us feel like visiting royalty. We felt the same way when we reached the Ritz-Carlton, Doha, with a lineup of staff waiting outside
that included Hoss Vetry (general manager), Mohamed Ahmed Rabie (guest services director), Hanny Gunawan (PR director) and Gregory Laguesse (PR assistant manager). It was wonderful to see how proud they are of this beautiful five-star property! The first thing you noticed upon entering the elegant marble-filled lobby was the chandelier, the largest in the Middle East. Made in Austria, it features more than 2,300 Swarovski crystals and is awe-inspiring. The hotel boasts 8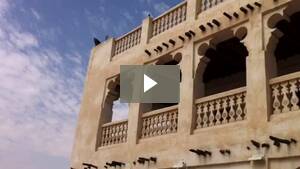 restaurants, a 235-slip marina, indoor/outdoor pools, squash courts, two indoor tennis courts and so much more! Our room overlooked the dramatic skyline of
Doha which was unlike anything I'd ever seen before. The buildings seemed to change in ways that were seemingly impossible. And at 5 am, I was awakened by the most haunting sound, the first call to prayer. It was so beautiful that I had to step out onto the terrace to experience it even though jet lag was at full strength. Five times a day, just like church
bells on a Sunday morning, one hears the call to prayer, which is made by a male caller from a mosque, calling the faithful to stop activity and pray. The call to prayer can be heard everywhere, including shopping malls and even inside cabs on the radio. Men and women pray separately and it's Islam law to have a mosque within walking distance of all
Muslim people so, wherever you are, you will hear the call. I knew of the custom, having heard it on our trips to Morocco, but I never get tired of it. It's so calming, much like meditation because it makes you stop and take a breath. The following day, we toured the Hamad International Airport near Aspire Park which will accommodate more than 30 million annually when it's completed (sometime soon they told us). This state-of-the-art hub will include a hotel, a swimming pool, squash courts, 72 luxury shops, mind boggling children's play areas, spas, game areas and fine
dining (including a homemade chocolate bar and multiple juice stands) to name a few. It will also be able to accommodate the world's largest aircraft, the A380. The Emir has his own terminal, of course, which will accommodate the Royal Family and visiting dignitaries. When we were there, they were testing the fire alarm announcement and it felt like something out of a Tom Cruise disaster film.
Lunch was at The Torch, which is the city's tallest building and is nothing like
we'd ever seen before. We were given a tour by Claudia Olaru, the Torch's assistant communications director. She showed us their rooms which all had dramatic, digitally controlled lighting panels with your choice of more than 10 colors and spectacular views of the city. The pool jutted out away from the building on the 23rd floor and was a marvel of design engineering. We ate at the appropriately
named Flying Carpet Restaurant which felt like something right out of Arabian Nights. We were completely hooked. That afternoon, we visited the private art collection of Sheikh Al Faisal Bin Qassim Al Thani at his museum. The artifacts come from around the world with a focus on Middle Eastern and Islamic history. The Museum also has an extensive collection of vintage and classic cars and I was amused to see that the Sheikh had a lot of interest in American models. I saw rare
Model T Fords, Pierce Arrows, Desotos and a couple of Indy 500 Pace Cars. That night we enjoyed an elegant trip to the St. Regis via Rolls Royce to enjoy Gordon Ramsey's new restaurant and some Jazz at Lincoln Center Doha, the only other official outpost of JALC outside of New York. The next day,
a tour of Souq Waqif put us on sensory overload. We smelled exotic spices and saw the camel, bird and horse markets, my favorite was the Falcon Souq. This Souq is home to everything falcon, from hoods and training materials to the birds themselves. When we walked into the first showroom, we saw
these elegant birds all resting on their perches. Most were hooded, as they're highly trained and dangerous but they're oh-so beautiful. We could look, but not touch since these falcons can cost more than a high end sports car, and are much more than a pet. In fact, on Qatar Airways, falcons must have a seat booked for them in business class, along
with their keeper because they are so highly valued! It was an amazing experience and I could've stayed in this Souq all day just watching these magnificent birds and the Arabs who
were inspecting them for hunting and the high-profile competition that occurs regularly in this part of the world. (That weekend, the Souq hosted a Spring Festival that attracted more than
50,000 visitors)! We lunched at Al Bandar restaurant which had views overlooking the area. As we dined we could hear the lion-like
low roars from the camels nearby. A table of burqa-clad women were smoking
hookahs while, at another table, a beautiful group of young local women were taking selfies and smoking hookahs, too. It was pretty surreal and we loved it.
That afternoon, we moved to another Ritz-Carlton property, Sharq Village & Spa. This secluded retreat is set up like a village with a unique desert castle design. Spread out along almost a quarter mile of coastline
property, it features a 15,000 sq. ft. infinity pool and extensive 70,000 sq. ft. spa center, Six Senses. Rooms at Sharq
Village feature oriental décor, wood accents and canopy beds. They include a private balcony overlooking the resort village or Doha Bay. We swam in the
beautiful pool and enjoyed massages and pedicures in the spa before dinner at the Islamic Art Museum.
The Alain Ducasse restaurant, IDAM, was breathtaking in all areas of the senses. The
French Mediterranean cuisine with an Arabic twist was prepared to perfection by executive Chef Romain Meder and head pastry Chef
Olivier Lannes. Even though only "mocktails" were served, the glittering skyline and food presentations more than
made up for a glass of wine or two (or three)....:-) We even tasted "camel"...which didn't taste like chicken (LOL!) but rather a sort of tasty, gamey pot

roast. (It's braised for 7 days). We even had a tour of the pristine kitchen which took the experience to a whole new level. (The Museum was designed by I.M. Pei who
came out of his retirement in his 90's to work on this project! The building even excels his other masterpiece, the Louvre Pyramid).
The following day, we were told to expect some excitement in the desert with a day of
"dune bashing" planned. Well, anything that has "bashing" in its description is something that I'm a little leery of but off we went anyway.....five of us with Chuck riding
shotgun with our driver Amir. Amir told us he "loved to drive fast" which sort of made the hair on my neck stand up but I was committed to experiencing this
trip that I'd already heard so much about. The desert is just what you would expect, miles and miles of white sand with no horizons in sight, but as you got
further out near the GulfCoast, the dunes started to look like mini-mountains. As Amir careened up and down them sideways throwing sand all over the Toyota Land Cruiser, we all squealed with delight. Clearly, he had done this a jillion ties before and, even though it seemed dangerous, I felt like we were in good
hands. It was beyond thrilling! When we first arrived, Amir had to adjust the tire pressure for better traction. While we waited, I took a ride on a camel. This was my second camel ride, but I hope it won't be my last. The rocking motion as this noble animal rises into the sky is so much fun and as we headed out on the sands, my mind went back to the times of the nomads who actually depended on these animals for
their livelihoods. It was a humbling experience.
The Al Shaqab Royal Stables were on our agenda for the afternoon. I don't have words to describe the vastness of these stables owned by the Emir and his family.
At 1 million square meters (which is more than 600 miles), it's the largest equestrian facility in the world. It houses 450-475 prize winning Arabian
horses including two world champions plus Marwan Al Shaqab, the highest achieving Arabian horse in the history of the breed with 3 World Championships to his
name. We saw the Riding Academy (which is open to the public for a nominal fee), the Royal viewing box, the dressage stables, the indoor/outdoor arenas, the breeding and show center, the show jumping stables, the veterinary clinic, the horse's swimming pool, jacuzzis and
more. It was mind blowing....
We left with great regret the following day.
The people of this delightful city were so friendly and so quick to help if you had questions. The hospitality at the hotels and restaurants was nonpareil. The building explosion keeps the skyline constantly
changing. Education City, which is a passion of the former Emir's beautiful wife Sheikha Mozah, is now being built. It will house more than 40 of the leading universities from around the world including Northwestern, Carnegie Mellon,
Georgetown, Cornell Medical, Texas A & M and more. Clearly, this is a city on the move and we were so honored to be there for its exciting beginnings.
The Chicago Tribune hosted an exciting launch party for Blue Sky Innovation, its premium website and newsletter aimed at the growing community of innovation-minded professionals in the Chicago area on
January 29. The party, held at River East hotspot Cicchetti, was packed with supporters who came out to hear about this new exciting venture from Tribune Media
Group that officially launched on October 16 with United Airlines as its exclusive presenting sponsor. Chicago Tribune editor Gerould (Gerry) Kern and VP/Associate editor Joycelyn Winnecke welcomed the crowd
and shared their enthusiasm for this latest venture. "As we move beyond the Great Recession, a new economy is emerging in Chicago. It is being created inside Chicago's business incubators, by small-business entrepreneurs,
in large companies that are reinventing themselves, in university research centers and other public and private ventures. Conveying the vitality, energy and drama of Chicago in the 21st century is one of our most important
goals at the Chicago Tribune. Today the Tribune launches Blue Sky Innovation, a new premium digital site to keep you up to
speed with this scene and serve the needs of innovation-minded professionals across the Chicago area," said Kern. Blue Sky will be offered on www.ChicagoTribune.com with a sampling of its content appearing in

the Chicago Tribune print edition in the Monday business section. Its first Innovator's Series will feature a conversation with entrepreneur/investor Mark Cuban and Blue Sky reporter James Janega on March 6 at the Merchandise Mart. (click here for tickets). (Party photos by Megan Bearder, www.MeganBearder.com )
Have you experienced the The Dinner Party yet? If not, you are missing something very special! The Dinner Party is
a completely new and different kind of show, and the brain child of fabulous host Elysabeth Alfano. On the show, Alfano invites three national or Chicago celebs and a known chef to a dinner party.
Over food, wine, chocolate, Twitter and a few impromptu performances, the unscripted conversations flow! Filmed live and streaming live, the
audience is a part of the party and live filming at Chicago City Winery. In addition to the live show, audience members enjoy large tastings of the chef's appetizer and entrées, a wine pairing from City Winery, and Vosges Chocolate.
Audience members twitter in questions for the stage guests making this one big, interactive dinner party. And as you know, the best conversations happen over dinner. An original option for Valentine's Day! Join the next Dinner Party on
February 17th with Chef Tim Graham of Travelle, Lookingglass Artistic Director, Andy White, Improviser Susan Messing, architect Jordan Mozer and host Elysabeth Alfano. Anna Fermin is the opening act and, in addition to
the great food provided Chef Graham and Vosges Chocolate have a special Valentine's Day treat for all who attends!! (For tickets and more info, click here!)
Every year I look forward to the Stanley Paul Foundation event. Established in 1990, this foundation has awarded more than a quarter of a million dollars in
scholarships for tuition to college students studying Fashion Design in honor of Stanley's beloved sister Raelene Mittelman, who loved fashion and had a strong wish to assist in the education of its students. On Wednesday, April 23 at The
Casino, the tables will be turned and the maestro himself will be honored! Stanley Paul is a fitting choice since 2014 will mark the 25th anniversary of the Foundation as well as the 50th anniversary of Stanley's musical impact on Chicago. Here's looking at you kid! I can't wait to toast YOU and all you do for so many! (For tickets and more info, contact the Apparel Industry Board, Inc. at aibi@aibi.com ).
Arthur Murray presents "Dancing with Chicago Celebrities" on March 7 at
the Hyatt Regency Chicago, 151 E. Wacker Drive. This 9th annual "Pink Carpet Premiere" raises funds for the fight against breast cancer. All net proceeds will be donated to the Northwestern Memorial Foundation. The star-studded line-up will include Ravi Baichwal (ABC 7), Aly Bockler (WCIU's "You & Me This Morning"), Daniella Guzman (NBC-5), and Reid Simpso, former NFL player. (For tickets and more info, click here)!
Michigan Avenue Magazine scored another cover coup with beautiful "True Detective" star Michelle Monaghan appearing on front of their winter issue! The party, held at Rockit Bar & Grill, was hosted by Mich Mag's president/publisher Dan Uslan and editor-in-chief JP Anderson. Belvedere Vodka cocktails were flowing as the guest mixed
and mingled with the beautiful covergirl. The event was also supported by Bob Loquercio Auto Group. Congrats to all!
Join the party at Howells & Hood on February 22nd for Mingle for Myeloma hosted by MMRF Chicago Young Professional's Group. The evening will include cocktails (courtesy of Wirtz
Beverage Group) and hors d'oeuvres plus a silent auction. All proceeds from this event go to benefit the Multiple Myeloma Research Foundation (MMRF). The MMRF strives to find new treatments, and ultimately a cure for a rare and fatal blood cancer called
multiple myeloma. My dear friend Misty Callahan recently lost her mom to MM so I hope you will come out to help fight this deadly disease that affects so many loved ones. Admission tickets, $55, will be available online until 2/15. After, price will increase to $65. Tickets will also be available for purchase at the door, $75, the night of the event. (Info and tix here)!
Just what we all need right NOW! The Chicago Flower & Garden Show will celebrate spring with its "Evening in Bloom" opening event on Friday, March 14 inside Navy Pier's Festival Hall. Nina and Bob Mariano will co-chair the
evening that will include musical entertainment, cocktails, tastings and sweet treats. The show, themed "Do Green. Do Good", will benefit several local nonprofits. (For more info, visit www.chicagoflower.com)
NBC 5's Natalie Martinez recently married her long-time sweetheart, Flavio Fama, in the Florida Keys with 50 of their closest friends in attendance. They honeymooned in Key West. These lovebirds
met in the Turks & Caicos in 2002 and their first date was at a friend's wedding in Costa Rica! Long may you love Natalie and Flavio! (Cue the music and release the doves!)
This one is for my friends down south....the St. Louis Boat and Sportshow will begin on Wednesday February 26 at America's Center & Edward Jones Dome (701 Convention Center Plaza). Duck Dynasty's John Godwin will join the show on Saturday,
March 1; craft beer tastings from Anchors & Ales will be on Friday, February 28, kayak and paddleboard indoors at Paddler's Party Cove; take scuba diving lessons in the "Be a Diver" pool; learn the latest techniques in fishing at the
Outdoor Classroom; let the kids loose in Kids' Cove and, last but not least, enjoy the new and antique and classic boats on display. The show runs through Sunday, March 2. (www.StLouisBoatShow.com)
The "Hope Through Caring" Award Dinner will benefit the ALS Foundation (Lou Gehrig's disease) on Saturday, March 15, at the Ritz-Carlton Chicago. Randy
Green, president First Bank of Highland Park, will serve as chairperson and the event will honor Harvey Gaffen, president of the
board for the Les Turner ALS Foundation. The evening will include a silent and live auction plus a Judith Ripka jewelry bar.
This year, "Tickled Pink" will partner with "Bright Pink" for a fun-filled evening of fundraising! Tickled Pink was
founded in 2005 by Jodi Fyfe in honor of her cousin Carrie who lost her battle with breast cancer at the age of 35. Bright Pink, founded by Lindsay Avner, is the only national non-profit focusing on the prevention and early detection of breast and ovarian cancer. Join these two
powerhouses on Friday, February 28 at Block 37, 108 N. State, from 7- 12 pm. (For tickets, $125, and more info click here!)
The second annual Blue & White 2014 Party will be held on Thursday, March 6, to
benefit Imerman's Angels! Join founder Jonny Imerman and his "Angel Mentors" as they celebrate another great year of providing free one-on-one support to cancer fighters, survivors and caregivers at John Barleycorn, 149 W. Kinzie St. from 7-10 pm.
(Tickets are only $60!)
Thanks so much to WCIU's "You & Me This Morning" for having me on this week to share my top event pics! I also got a chance to share some of my Doha, Qatar, trip highlights! It was truly a PARTEEE on this day since Amanda Puck, Matt Roan, Michi Marshall and Fabio Viviani were also on the show! Love this entertaining show and its beautiful co-hosts Melissa Forman and Jeanne Sparrow!
---
---
And, last but not least, a huge birthday hug to Beth Silverman, founder/owner of The Silverman Group! Friends and fans gathered at the LillStreet Loft to celebrate with her on her 50th birthday!! Love you Beth!
I have lots more news but you would probably need a pot of coffee to continue reading! Please join me next week when I'll share more of the 411 on 312 with news of the movers, shakers and just plain cool!
Love, as always,
Candace
Candace@CandidCandace.com
P.S. How would you like to look like this at 82? Wowza! Love this eternal supermodel Carmen Dell'Orefice!